Robert Harrison Tivy (1921-2004) M. Anne Walker (1922-1971), M. Francis Toomey (1926-)
Ist marriage to Marjorie Anne Walker-July 2, 1949 at Dauphin, Man.
2nd marriage to Frances Mona Toomey-October 28, 1972, Montreal,P.Q.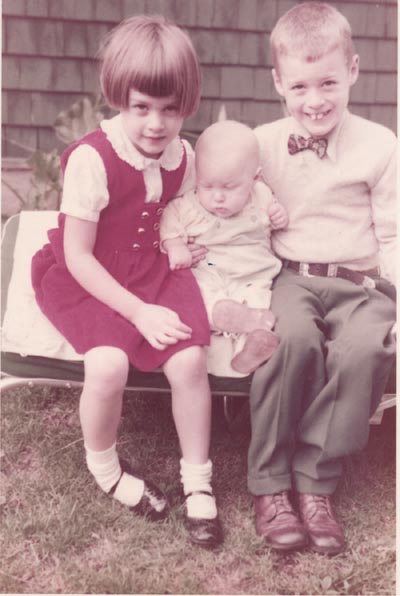 Maria, Jimmy and Robin 1957.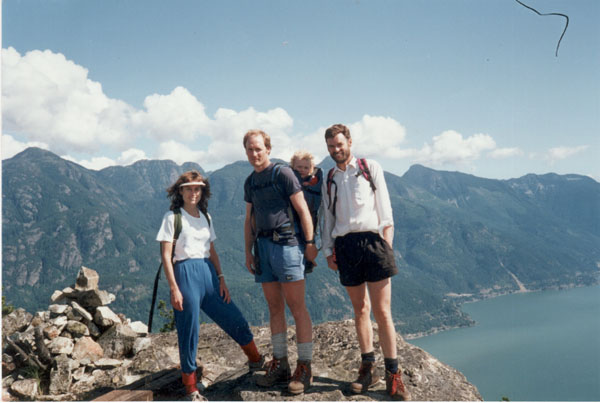 Maria, Jimmy and Robin 1990. Top of Anvil island just south of Squamish BC, with little Caley in the backpack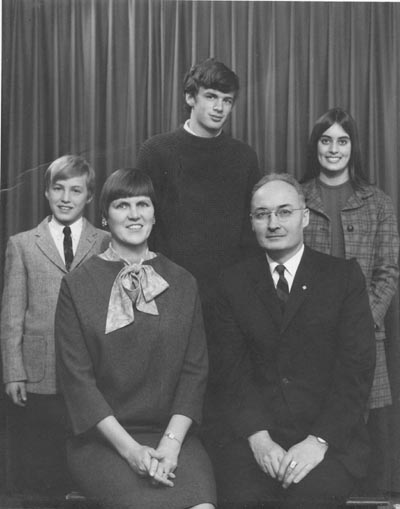 Jim Tivy, Anne Tivy, Robin Tivy, Bob Tivy, Maria Tivy 1966
The family photo was taken in 1966 at a commercial photographer's in Beeton, Ont. for the burial of Auntie Beth, (long may her soul rest in peace, she loved us all!)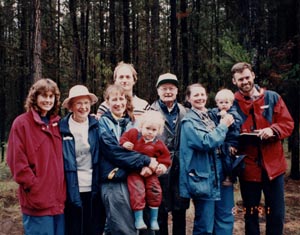 1991 at big Tivy reunion at lakes. Maria,Fran,Anne,Jim,Caley,Bob,Jenny,Wolf,Robin
Robert Harrison Tivy (1921-2004)
Born in Rivers on June 23rd, MB eldest son of Norman and Stella Tivy. Educated in Rivers Consolidated School, Grades 1 through 12 he graduated in 1938. Awarded a Manitoba Scholarship it was then possible to attend the University of Manitoba. Also received a Colonel Leonard Scholarship awarded to sons of WWI veterans and graduated in Electrical Engineering in April 1943. He supplemented the scholarship money by working on farms, CNR track gangs and steam locomotive construction (Canadian Locomotive Co. Kingston, ON) during summer vacations.
Was active during student life in hockey, tennis, softball and dancing. Worked on the university newspaper and became Editor-in-Chief in his graduating year.
Went directly from university to the Royal Canadian Navy (Volunteer Reserve) for war service. Served on maintenance, repair and development work on gyro compasses, course plotters and speed and distance logs in Sydney, NS and Halifax dockyards. Volunteered for the Pacific war and was assigned to H.M.C.S. "ALGONQUIN" in May 1945 as Electrical Lieutenant. Did workups with British destroyer flotilla in the Mediterranean until Japanese war ended.
Paid off at Esquimault in Dec. 1945 and went to work for the Manitoba Power Commission in Winnipeg on the Farm Electrification Program. In 1949 married Marjorie Anne Walker in Dauphin, MB, daughter of George Noble and Ella Walker of Winnipeg. Three children were born, Robin George, Anna Maria and James William.
In 1953, when Canadian railways got heavily into dieselization Bob followed his love of trains to accept a job with CNR at Montreal. From then on the family moved successively to Moncton, NB, New Glasgow, NS, to Moncton again, thence to Toronto and finally to Montreal for 15 years where Bob retired as Chief of Management Services in 1984. His main achievement in the railway was his acting as General Manager of the computerized Traffic Reporting and Control System installed across the railway.
After moving from Toronto to Montreal in 1969 it was only two years before his wife Anne died of breast and bone cancer. She lies buried in Pointe Claire cemetary. This was the most terrible loss of a dear one in the prime of life-she was only 48. Her main legacy aside from being the homemaker and child-raiser is the many lovely paintings which have been distributed among family members.
In October 1972, Bob married Frances Mona Toomey, who was a head nurse in the Royal Victoria Hospital. They remained living in Beaconsfield (a Montreal suburb) until after Bob's retirement whereupon they spent over two years in New Delhi, India to assist the Indian Railways in the installation of a computerized traffic reporting and control system similar to that of CN.
One by one, the children had been moving away with only James left in 1972. When he left in 1973 he went west to join Maria and Robin on the west coast. Thus, when Bob and Fran returned from India in 1988 and coupled with the fact that both Sister Mary and brother Bill and their families also lived on the coast it made sense for them to go there also.
A new house was built in South Surrey to meet Fran's taste and retirement needs and that's it up to end of 1997.
For more detail read Robert's Memoirs
Memories of Robert Harrison Tivy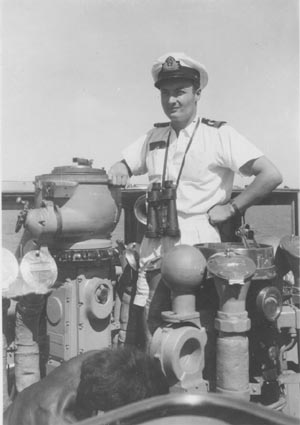 Bob, 1945 on board the Algonquin.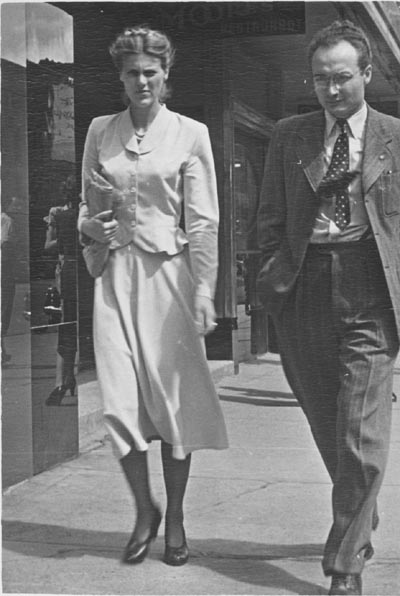 Anne Walker and Bob Tivy, 1948 before marriage.
Marjorie Anne (Walker) Tivy (1922-1971)
She was born in Winnipeg in 1922 and was raised and educated there by her parents, George N. and Ella Walker. She attended Gordon Bell High School then entered the Home Economics course at the University of Manitoba. She graduated with her B.Sc.(H.Ec.)in 1946 and next took a post graduate Diploma in Education in 1947.
She then went out teaching in various rural schools before spending a year in charge of Home Economics at Summerland B.C.. She returned to Manitoba to head up Home Economics at Dauphin High School.
In July, 1949 she married Robert H. Tivy in Dauphin; they had met at a Manitoba Power Commission Dance. She was so attractive and well spoken that the President of the Student's Union at University had published a poem in the student newspaper "To Anne of Home Economics".
They set up housekeeping in an apartment in St. Boniface from which they had to flee during the 1950 flood. Not long after returning from the flood their firstborn, Robin arrived. They then bought a house in Ft. Rouge in 1951, ready for the arrival of Maria in 1952. In l953 the growing family transferred to Baie d'Urfe near Montreal, then two years later to Moncton,N.B. where James was born in 1957.
Later that year the railway moved them to New Glasgow, N.S. then back to Moncton in 1959 where they built a new home across the Peticodiac River in Gunningsville, N.B.. In 1964 it was a move to Toronto and a house in the suburb of Islington. Another five years onward it was back to Montreal to a lovely new house in Beaconsfield. Then tragedy struck, the breast cancer for which Anne had gone through a mastectomy in Toronto returned, eventually invading her bones and her brain causing her untimely death, May 7, 1971.
Other than her valiant service as housewife and mother her consuming passion in life had been painting. She had attended the Winnipeg School of Art, the Montreal Ecole des Beaux Arts and had supervised the teaching of children's art every Saturday in the Etobicoke School system. In Moncton she had served as President of the local Art Society. All of the while she continued her own painting and we are happy to have a considerable number of her works preserved and in the possession of family members.
It was only fitting to place the epitaph "She was an Artist" on her grave stone where she lies in Pointe Claire cemetary.
Francis Toomey (1926-)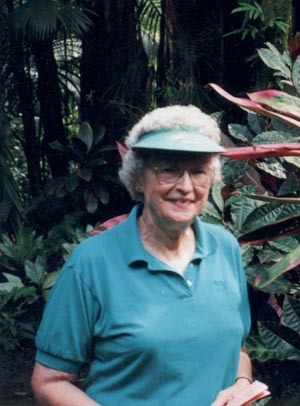 Frances Mona (Toomey) Tivy, 1926-
She was born in Feb. 1926 in the Nova Scotia village of Weymouth North where her grandmother Amirault lived. Her mother had gone there for her confinemnt as her father, Francis Toomey worked in train service on the Dominion Atlantic Railway and was often away from home in Kentville for various periods on duty.
She was educated in the Kentville public school and the Kentville Academy where she graduated. She then took nursing at the Halifax Infirmary then operated by the Sisters of Charity. She graduated as a Registered Nurse in 1946 and returned to Kentville where she worked in the Fraser Memorial Hospital. Contracting tuberculosis she was sent to the sanatorium where after several months rest and treatment she recovered.
She then moved to the Royal Victoria Hospital in Montreal serving there as operating room and later obstetrical nurse. After taking time off to study Nursing Science at the University of McGill she returned to the Royal Victoria achieved the level of Assistant Supervisor of nursing for the Women's Pavilion.
In 1973 she married Robert H. Tivy (his 1st wife Anne having died the previous year). She moved to Beaconsfield to live in Bob's house and was very successful in making the dramatic change from downtown working professional to become a suburban housewife!
After Bob's retirement she accompanied him to live in New Delhi, India. Here she learned to cope with servants rather than electrical appliances. She had the misfortune to badly fracture her ankle but it was capably repaired by an Indian surgeon. While the repair was nearly perfect she was afraid to go back to curling on her return to Canada; but nothing has hindered her from long walks, bird watching, cards, travel and housekeeping. These can all be accomplished from the new home built to her taste on the west coast of B.C. where she and Bob have lived since returning from India in 1988.