William Norman Tivy (1927-) M(1951). June Rabe (1931-)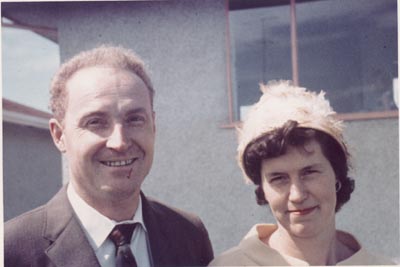 Bill and June 1962.
William Norman Tivy, (1927-)
He was born Dec. 2, 1927 in the family home in Rivers. His red hair comes from his grandmother, Maria Harrison of Holmfield Manitoba and it is worth noting this same red gene has been passed to his grandson Alex William Tivy!
He was educated in Rivers Consolidated School and on completion of high school he took one year pre-engineering at United College and then pursued Electrical Engineering at the University of Manitoba. He graduated with a B.Sc.(E.E.) degree in 1950. During the war he worked on the Rivers CNR section gang and did training in the R.C.A.F. Air Cadets. During summer breaks from university he joined the Canadian Officer Training Corp and took training at the Royal Canadian Signals Corps near Kingston Ont. He also did electrical ground testing for the Manitoba Power Commission.
In 1951 he married June Rabe, daughter of Albert and Ursula Rabe who operated a farm near Alexander, Manitoba. The young couple took up residence in Regina, Sask., where Bill had obtained a position with the Saskatchewan Power Commission. In 1957 they moved to Victoria, B.C. where the then B.C. Power Commission had its headquarters. When the government took over the privately owned B.C. Electric in 1962 Bill was moved to their headquarters in Vancouver and the family took up residence in North Vancouver.
Bill was quite successful in the new utility named B.C. Hydro and filled a number of positions, including that of Manager of Operations Control, controlling the generation and high voltage transmission network for the BC Hydro Integrated system.
Two lovely girls, Janice and Debra were borne to them while in Regina Sask, with son Brian being born after they moved to Victoria. Through daughter Janice and son Brian they now have six grandchildren and two great grandchildren!
While June has enjoyed homemaking as her main activity she has worked at various jobs from time to time. She and Bill are active members of a square dancing group.
When Bill retired in 1988 they procured a large motor home and used it to visit Mesa, Arizona each winter. In 1993 they traded it for a Park Model home in the same retirement community where they now know many of the residents and partake in many activites in the sun.
June Rabe
Born in Alexander Manitoba in 1931. Her parents were Alberta (1885-1952) and Ursula Rabe (1896-1959). They operated a farm 1.5 miles from Alexander. June is the youngest in the family of 5. She had 2 borthers and has 3 sisters. June complete here high school in Alexander and went to Winnipeg and the University of Manitoba for a dgree in Home Economics - BscHec. She met William Tivy at University and they married in Sept 1951 after June graduated. June taught sewing clases for Singer Sewing Machine Co. for several months before marriage.
As newlyweds they moved to Regina Sask, where Bill was working for Sask. Power, having graduated one year earlier. Two daughters, Janice(1952) and Debra(1955) were born to June and Bill in Regina. While in Regina June operated a kindergarten in her home for one year. In 1957, June, Bill and family moved to Victoria B.C. where son Brian was born in 1958. In 1962 Bill, June and family of 3 were transferred to Vancouver where they still reside. In Vancouver, June worked as an assistant kindergarten teacher for 6 years and then for Canada trust as a receptionist and switchboard operator.
June retired after 6 years and now enjoys retirement with Bill in Mesa Arizona - including sunshine, dancing, and many crafts. As well, Bill and June have enjoyed wonderful music groups where June played saxaphone in a comunity band for 8 years and belonged to a choral group there for 12 years. June and Bill have also square danced for many years.