Anna Maria Tivy (1952-

Maria was born on November 9, 1952 in Winnipeg, Manitoba (see RH Tivy family dates).. After surviving the Winnipeg winter, the family moved to Baie d'Urfe, Quebec , where they lived for 2 years. Her father (Bob) continued to move ahead and be transferred at CN, so she lived in Moncton, New Glasgow, Gunningsville, Toronto and Beaconsfield (Montreal) over the next 13 years. During those years, in addition to regular schooling, she completed Grade Eight Royal Conservatory piano which gave her an excellent musical base to enjoy music in the following years.

When she was 17, she headed off to Carleton U. to take architecture and completed the first year before going out west to seek a summer job. She gained employment as the cook at the T.H guest ranch on the Chilko River in B.C. and became enamoured with the peace and beauty of the Caribou country and also a particular cowboy. They came back to the mainland and set up a small ranch together near Mission, B.C. in the fall of 1971, in anticipation of accumulating enough money to open their own guest ranch back up in the Caribou country. During that time, she indulged her love of animals and learned a great deal about horses and cows, not to mention pigs, chickens, dogs, cats, and geese. She also learned to play some bluegrass mandolin and they often had musical "jam sessions" at the ranch with the likes of the "Cement City Cowboys", who later to became "Blue Northern", a popular local country band. One of the highlights of this time was when her younger brother, Jim, came to live with her and completed Grades 11 and 12. He pitched in after school and became part of the gang, with "Hugo", "Moose", the "Wench" and other colourful characters who worked there.

However, by 1975, she realized the cowboy, although very talented, was perhaps a bit too much of a cowboy for her, so she headed into Vancouver to find work and a new life. After working as a short-order cook for a while, she became the foodservice manager at the Squire Motor Inn in Coquitlam. In 1977, she moved on to the Magic Kitchen, which was a distributor and retailer of Bosch Kitchen Machines and grain grinders. Here she deepened her love of cooking and nutrition, reading and taking correspondence courses in nutrition, in addition to business management. She set up cooking classes for people to come and see how they could use their new machines to make wholesome baked goods and pasta from scratch. In addition, she learned a great deal about selling from her boss, Jay Paterson, who was a master from previous days in the insurance business.

After a couple of years, she decided that she would like to pursue a more expansive sales career, and managed to land a job as a sales rep with Vitality Foods, where she traveled throughout the province and sold vitamins and health food sections into supermarkets. Unfortunately, Vitality bought a company with serious union problems and ended up becoming insolvent, so it was time to move on again. She moved to Thomas J.Lipton in 1981, where she worked as a sales rep and account manager until 1985. She went back to school during this time, completing the Marketing Management Certificate at BCIT through night classes.

In 1978, she had met Ken Peterson, who was an executive with Lumberland Building Supply outlets and in 1979, they bought a townhouse together in Burnaby, B.C. and later married. His career at Lumberland had peaked by 1984, so he joined Beaver Lumber to seek his own franchise there. Since it looked like Victoria was going to be home, Maria resigned from Lipton to join Ken there. She had completed the Dale Carnegie courses and instructor training program while at Lipton, so decided to work for them full-time as a salesperson and instructor in Victoria. However, fate intervened and Ken was able to secure the Burnaby Beaver Lumber franchise, so they ended up staying in Burnaby. Maria pursued the Dale Carnegie option in Vancouver for about a year, but she missed the food business and joined Campbell Soup in 1985.

With the breakup of her marriage in 1988, she accepted a transfer to Toronto to work in Campbell's head office marketing and then national sales. In 1991, she accepted an offer from Pepsi to come back to Vancouver as a National Account Sales Manager, where she worked for 3 ½ years before being transferred to Calgary in 1995. During her time in Vancouver, she became more involved with running, and completed the Vancouver Marathon in 1992.

She now resides in Calgary where she continues to work for Pepsi. She lives with her partner, Mark Edmonds, who shares her interest in music and horses, in addition to his own fishing and geology. They have a new home on the Bow River, where they swim, fish and enjoy the bike paths. His 3 children, Jillian, Jamie and Jessica, live part of the time with them and keep their life interesting. Maria is currently taking her MBA through Athabasca University and Mark patiently puts up with her endless hours on the computer and occasional tirades when it won't co-operate.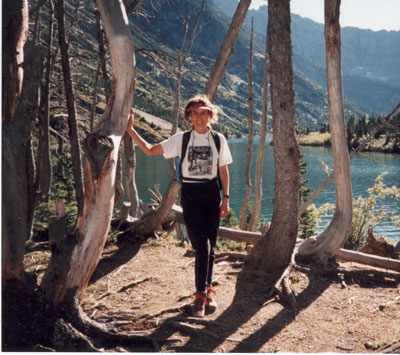 Maria Bertha Lakes - Waterton Lakes Alberta 1995?